Well I will jump right to the good stuff since I know you've all been waiting....
We had the ultrasound this morning and both babies are measuring right where they need to be. Both have all organs and body parts, no deformities or anything. And both babies are.....
GIRLS!
The choice on the poll that got the least votes is what they ended up being. Even I was wrong, as I was sure there were one of each. But there were clearly no boy parts on either baby. I could just sense the visions of pink & purple girly things going through M's head. Hopefully one of them will grow up to like hunting/fishing/sports for B's sake, but I know they are both going to be daddy's little girls.
We got some good pictures of the babies so I will post some but will leave out the gender shots. I dont know how they'd feel about their babies' girly bits being put on the internet, so I will err on the side of caution and not post those here. Each picture tells you which baby you're looking at.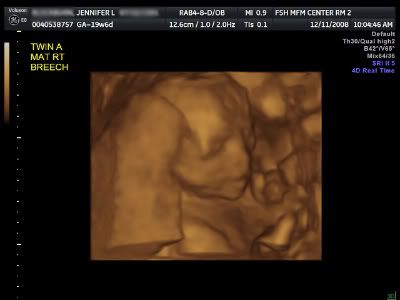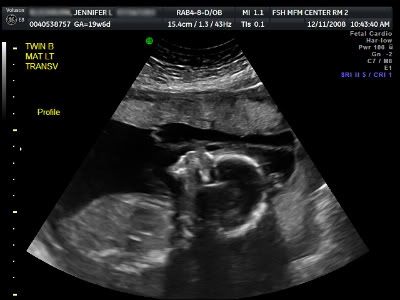 So congrats to M&B on your two healthy beautiful baby girls! Now we just cruise on through to the finish line! :)