Well, depending on what website you look at, I am either entering the 2nd trimester or still a week away from it. The 2nd trimester is supposed to be the magical, uneventful trimester and I am looking forward to it! Here's what's going on in this uterus of mine this week:



Vocal cords begin to form

Those precious eyes begin to move closer together

Ears shift to their normal place on the side of the head

Intestines move farther in to your child's body

His or her liver begins to function - Responsible for cleansing the blood, storing nutrients, and providing needed chemicals, this is an important event!

The pancreas begins to produce insulin

Guess what? Baby's average size is now at a whopping length: 2.13 inches (5.4cm) and weight: 0.49 ounce (14gm)
So there are two plums in there this week that have made my belly look like this: (keep in mind I have only gained 2 pounds...the jeans I'm wearing are getting snug and they used to fall off of me)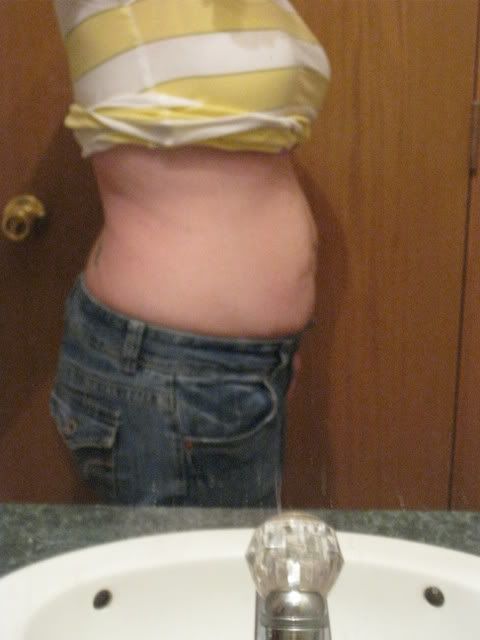 Tomorrow I will put up a gender poll. I'm so anxious for the ultrasound on December 8th! But I know that nobody is more anxious than M&B are! Ian has decided that the babies are a boy and a girl. Whenever he refers to them, he now says "the little boy and girl" in my belly. So...is he right? We shall see!